 teleCARE® IP
Always present, always on, always safe
Ascom teleCARE IP elderly care solutions enable staff to unobtrusively attend to safety, while residents confidently enjoy an active lifestyle. Indoors and on the premises, this scalable and flexible system helps facilities of all types and sizes provide optimal care, preserve dignity and promote a high quality of life for residents.
With functionality that includes direct resident/staff communication, discrete wireless monitoring with accurate and reliable location technology–supported by reliable communications devices–teleCARE IP meets the real-world, real-time needs of senior care facilities today.
Inspired by nurses
Ascom has made significant improvements in the handling of nurse calls for more than 50 years, based on real life situations in all types of healthcare settings. Caregivers try hard to create a calm, friendly environment for their residents. Instead of noises and audible signals, teleCARE IP uses discreet alarms and enables calls to get to the right staff member, creating a quieter and less stressful environment for residents and staff. The result is a solution that helps staff be there for their residents when they need them most.
Protect wandering residents
With the Ascom teleCARE IP wander management solution, staff can discreetly monitor residents at risk of wandering off and getting hurt. Ascom teleCARE IP automatically alerts staff when a resident is leaving an area unauthorized – and even offers the option to lock the doors to contain his or her movements.
Activity monitoring made easy
The elderly care market is under pressure. Residents are living longer and requiring more care, while facilities'operating budgets are tight, putting pressure on limited staff resources. When it comes to resident safety, having individuals press a button for assistance is just not enough anymore. There is an increasing need for individualized care and, to handle this demand given the growing resident population and workload, automatic activity monitoring must be in place. With new smart sensor solutions and software, the teleCARE IP system can assure unobtrusive monitoring and activity alerts that expedite needed assistance and aid in preventing potentially harmful events.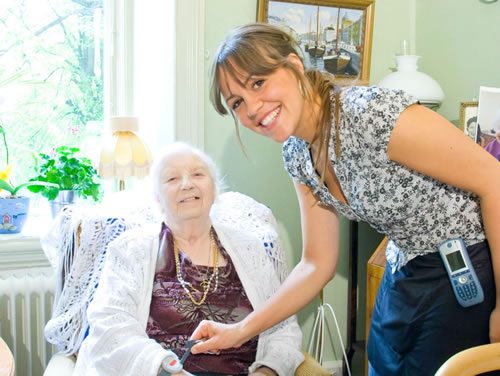 Spend more time with your residents
Mrs. Jefferson isn't sure if she has taken her medication and calls for assistance. Using the teleCARE IP voice capability she says what she wants so that her caregiver won't have to make multiple trips to her room. As an added bonus her nurse has time to exchange a few friendly and reassuring words with her, reducing potential stress while waiting.
One resident, Mrs. Norton, is immobile and has trouble pressing the call button. When she needs help she simply calls out for a nurse. teleCARE IP picks up the sound and opens a hands-free voice channel so that her nurse can talk to her quickly so she knows help is on the way.
Communicate quickly and easily with colleagues
Mr. Petersson is feeling a bit hungry and calls for a snack. At the same time Mr. Clements is experiencing chest pains. Mr. Clements uses the voice capability to tell the central nurse about his problems and she gives his alarm higher urgency. The system automatically prioritizes the assignments and senses who is the nearest nurse, so that Mr. Clements receives more immediate assistance.
Miss Singard wakes up in the middle of the night and presses teleCARE IP's backlit nurse call button. She is in great pain because her side hurts. As the only nurse in the ward on the night shift you are busy helping Mr. Jackson, who has fallen out of bed. With the push of a button you transfer the alarm and soon receive assistance from the ward next door. What could have been a stressful situation for you and your residents is handled promptly.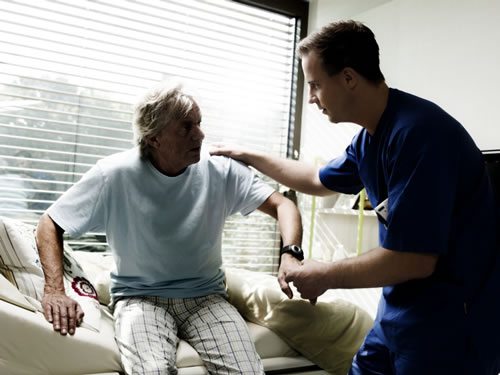 Don't Be Shy
Drop us a line anytime and a member of our team will be happy to help