 Sound Masking Systems
Reduce Noise Distractions | Protect Speech Privacy
The lack of speech privacy is a top driver of workplace dissatisfaction. Sound masking is the process of adding a low level, unobtrusive background sound to an environment to reduce the intelligibility of human speech and reduce noise distractions in that environment. The sound is typically introduced through speakers installed in or above the ceiling.
Sound masking is a critical component of acoustic design. When designing an optimal acoustic environment, architects consider a variety of elements to address noise control and speech privacy. Elements added either Absorb, Block, or Cover sound, and are collectively called the ABC's of acoustic design.
Keep Private Conversations Private
Targeted Speech Protection Solutions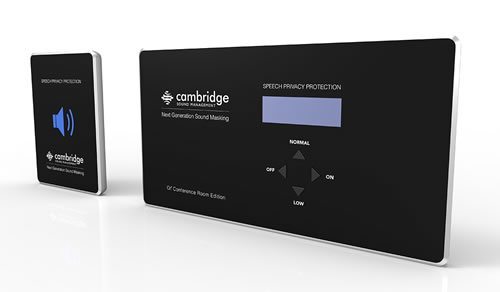 Qt® Conference Room Edition
Designed to protect speech privacy in conference and board
rooms

Sleek and modern design for contemporary conference rooms

Privacy signs inform occupants that their speech is protected
Conference Room Edition Video
Where is sound masking used?
Corporate
Open Office Space
Private Office Space
Conference Rooms
Healthcare
Patient Rooms
Clinical Spaces
Pharmacies
Financial Services
Retail Banks
Call Centers
Board Rooms
Technology
Engineering Laps
Co-share Spaces
Huddle Rooms
Government & Law
Secured Facilities
Courtrooms
Law Offices
Hospitality
Guest Rooms
Lobby Areas
Spas
Education
Research Laps
Student Centers
Libraries
Venues
House of Worship
Conference Centers
Airport Lounges