 Serving Safer Schools Everyday And In Times Of Crisis
The CareHawk® suite of communication products keeps schools running smoothly and safely, so staff and students can focus on what's important – learning.
Student and staff safety is the top prioity at any educational facility. It's a fundamental requirement for a healthy and effective learning environment. That's why we're dedicated to developing life safety communication technologies that alert, inform and instruct staff and students through everyday activities and during emergency situations.
The CareHawk® CH1000(LT) ensures staff and students receive timely, clear, concise, and accessible emergency alerts and instructions with automated pre-recorded local security alerts, district wide alerts, visual display messaging, email alerts, classroom intercom, and paging. The CH1000(LT) also integrates with low voltage fire, video security, and access control systems.
The CH2000 Life Safety Communication Platform, in conjunction with MapAssist™, takes Orchard View Elementary from a slow and aging communication process into the future of schoolwide and districtwide communication.
Orchard View Elementary renovated their entire building. In this process, it was apparent that the aging Bogen MultiCom needed to be updated. One of our distributors, SVT, described CareHawk's history and effectiveness in the K-12 market to the school; this included a demonstration from Technical Director Bill Kapp and Sales Engineer Kevin Patrick. With effectiveness and, most importantly, safety at the forefront of the school's decision making process, CareHawk systems were chosen.
The school needed modern IP-based systems for everyday and emergency communication. In today's climate, this cannot be put on the back burner or be given discounted importance.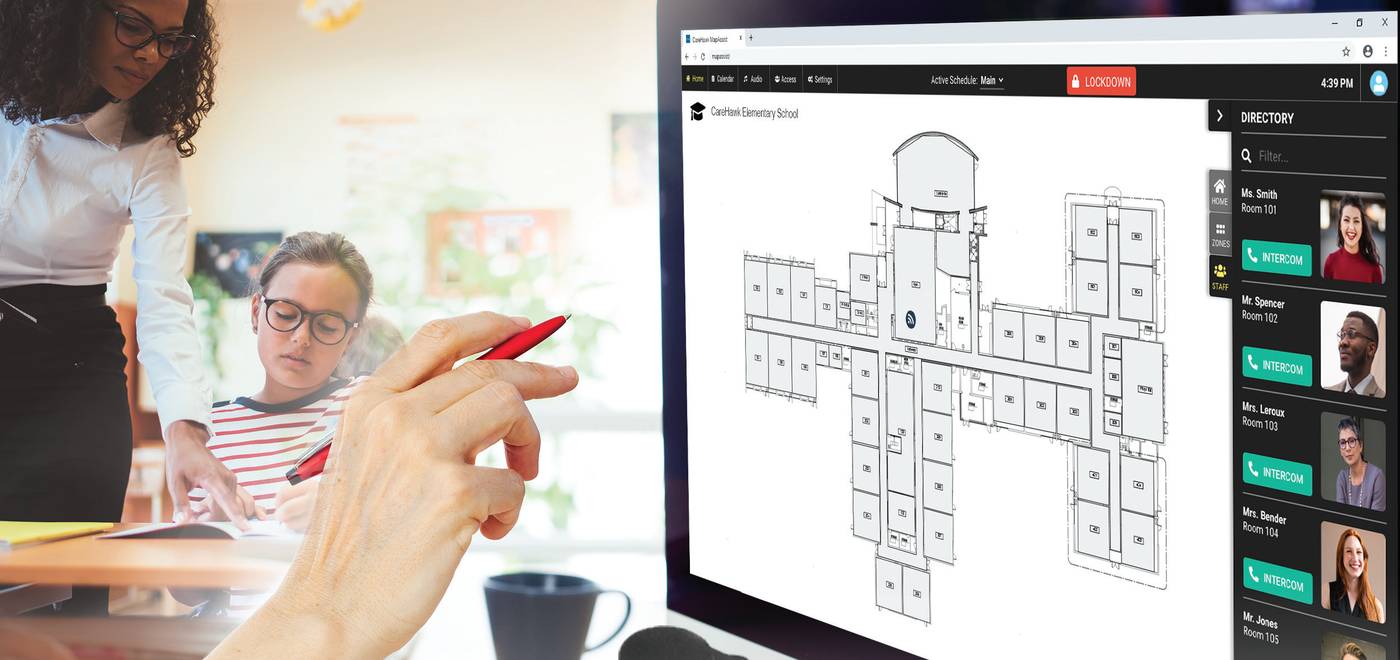 " It is absolutely paramount that classrooms are able to communicate with the front office. During emergencies, the front office needs to be able to send messages quickly. CareHawk® systems achieve and exceed these expectations. CareHawk® has become the standard of what school safety communication must be."
– Tom Weissert
SVT Sales Representative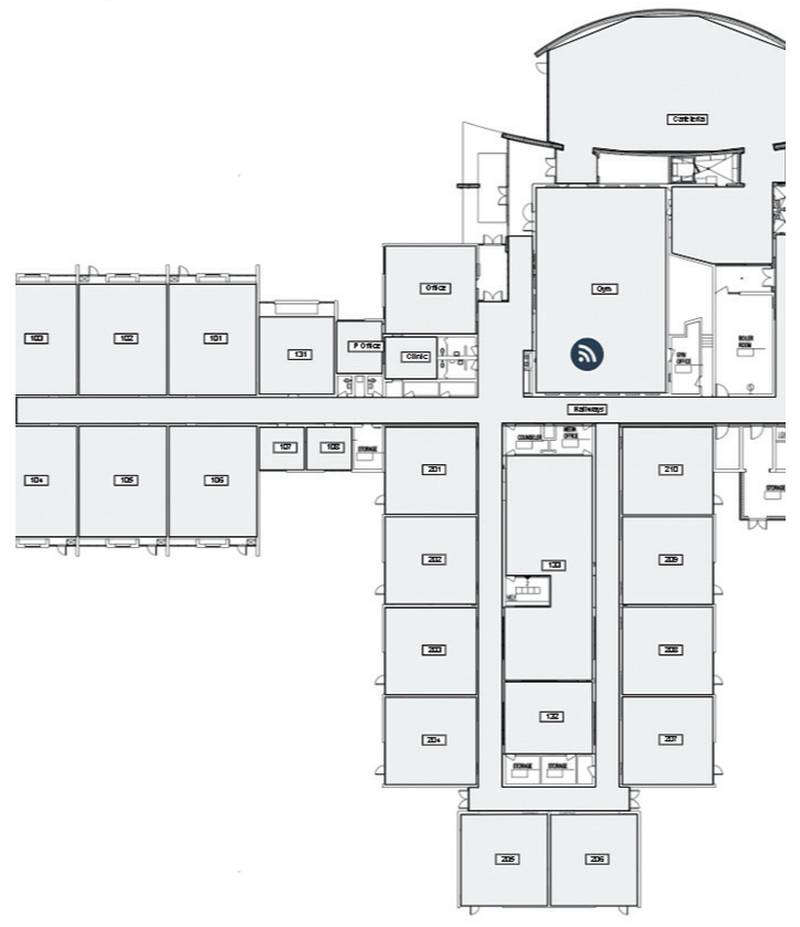 MapAssist™ converts your school floor plan into an interactive dashboard.
Click a classroom, make a call!
Keeping Schools Running Smoothly, Safely And On-Time
Calendar™(PC) and WebCalendar™ (broswer-based) provide everything staff needs to schedule bells, tones, programs, video surveillance, and more. All through an easy to understand wizard based interface. Program events years in advance or update on the fly.
Graphic-based admin phone Assistant™ software enables staff to initiate functions with a click of the mouse and pick up the phone to speak. No need for a "cheat sheet" to remember complicated access codes, just click an icon and go!
Trigger alerts from security sensors, classroom telephones, cell phones, computers (VCall™ or ToneAlerts™ software) or push buttons.
Send visual messages to a series of synchronized messaging displays with full color HD graphics for enhanced intelligibility. Display graphics as well as text for more effective communication when it matters most. Messages can be sent within a single school or to multiple schools district wide.
Rely on CareHawk® Email Alert Messenger™ software to automatically deliver emergency alerts to staff and administration when an emergency occurs. Customize email messages and configure up to 99 unique alerts for effective response to everyday and crisis situations.
With District Wide Messaging a simple click of the mouse now allows school administrators the ability to send lockdown alerts (using Alerts™ PC software) or any message to a single school, a group of schools, or to the entire district at once.
Send tones or background music to any one of 64 zones or any group of zones with the AP1 Administrative Phone or Assistant™ PC software. With WAV file based tones, administrators can use one of the many factory tones or easily add their own custom tones.
Fully integrate your access control, and security system to streamline emergency functions. Trigger lockdowns that not only alert staff and students but automatically lock the doors and signal a central monitoring station.
Ensure bells, time tones and clocks are all in sync! Synchronize with CareHawk® wired or wireless digital and analog clocks. Do you have a legacy clocks system? No problem, we can sync most brands.
CH1000(LT) Life Safety Communication Platform
Rely on the CH1000(LT) for superior audio intelligibility everyday and in times of crisis.
Ideal for Educational facilities the CH1000(LT) is a carefully engineered life safety communications platform used to send emergency messages, classroom intercom, paging, district-wide alerts, synchronize clocks, integrate video surveillance and much more.
School intercom system.
Communicate effectively with superior audio intelligibility.
Simple and cost-effective installation and retofit applications. Reduce cable and conduit materials by up to 2/3rds of a traditional system.
Remote support and access is available from anywhere.
Customize the platform to the unique needs of any school or facility.
Each CH1000 is backed by a 5 year industry-leading warranty and world class customer support.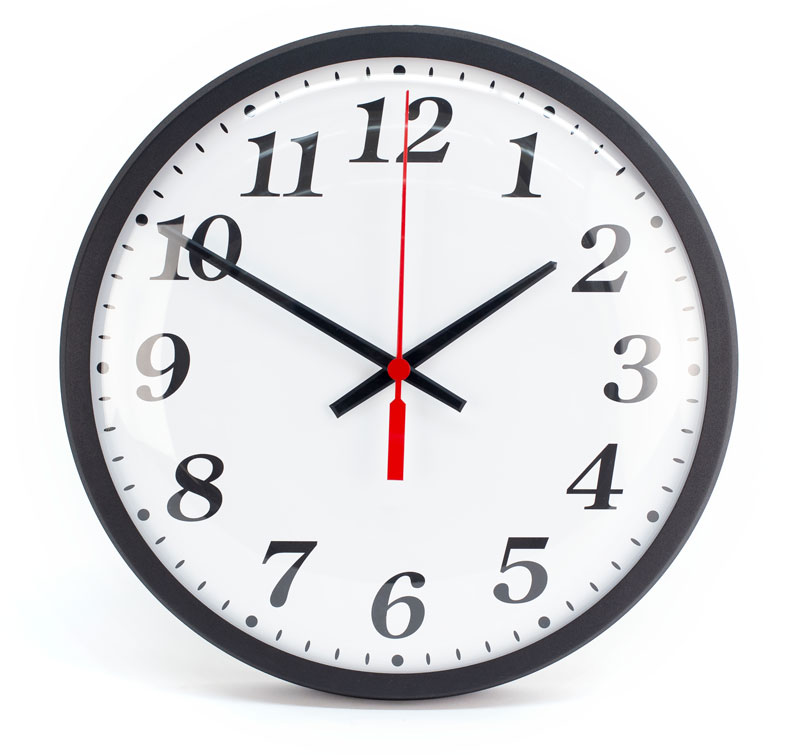 Wired / Wireless Clock Systems
Keeping your school running effortlessly, on-time and in-sync.
CareHawk® Master Clocks easily interface to paging and intercom systems such as the CareHawk® CH1000(LT) and legacy Dukane StarCall and MCS350 communication systems for tone generation and audible signaling of bell schedules.
They also conform to the open communications standard adopted by the ZigBee Alliance of manufacturers, giving them compatibility with a wide range of wireless automation platforms available today and in the future.
Choose a wired system for new installations, a wireless system for retrofit installations or a combination of both for complete flexibility. A wide selection of analog and digital clocks are available with a range of mounting and installation options.
Real-Time Emergency Responsiveness
Effective visual communication for improved student and staff safety.
A network of CareHawk® CLKMSL22 displays provides superior emergency and everyday announcements for improved student and staff safety and communication. Great for single school applications or multiple schools across an entire district.
The CLKMSL22 display delivers modern digital signage with full color HD graphics for enhanced intelligibility. Display graphics as well as text for more effective communication when it matters most.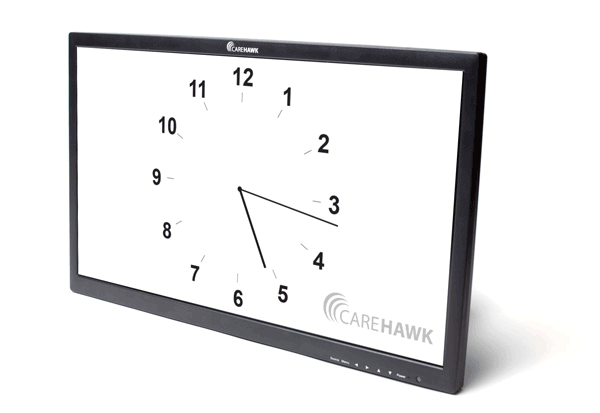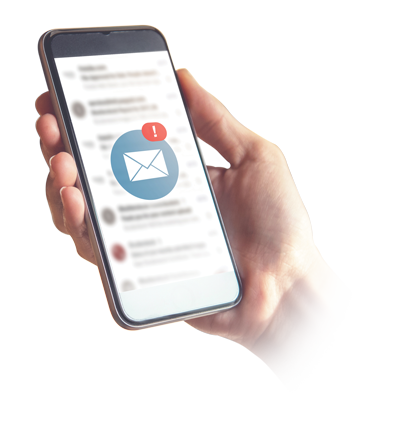 Automatic Email Alerts
Inform staff, administration and emergency responders of a crisis, via email, on any device.
Rely on Email Alert Messenger™ to deliver the right message to the right people, at the right time, for effective response to everyday and crisis situations.

Immediately inform staff and administration of emergency events.
Send email alerts to phones, tablets and computers.
Customize alert messages and configure up to 99 unique alerts.
Simple browser-based setup.
District Wide Messaging
Keep everyone informed with mass communication across an entire district!
CareHawk®'s District Wide Communication solution provides facility staff a means of broadcasting live pages, like emergency pages, or any pre-recorded announcements/emergency announcements across a group of facilities. Broadcast across a school district or any group of facilities over the groups network.
With Alerts™ PC software, a simple click of the mouse now allows school administrators the ability to send lockdown alerts or tornado warnings to a single school, a group of schools, or to the entire district at once.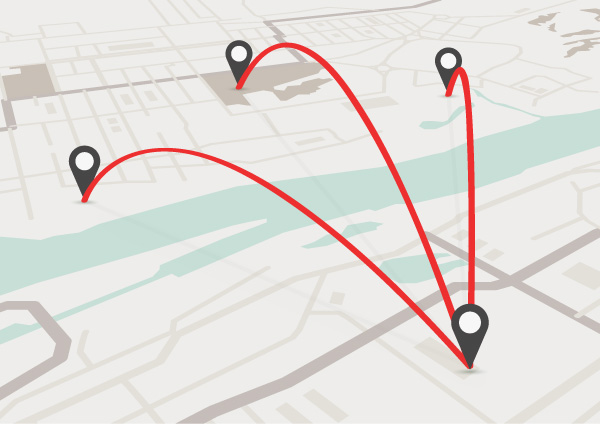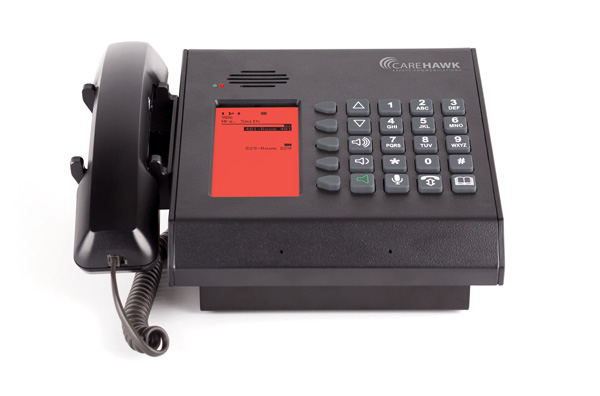 Administrative Telephones
System control at your fingertips with the AP1 Administrative Phone.
The control center for paging, classroom intercom, security, video and telephone communications with the CareHawk® CH1000(LT).

Backlit display turns red to indicate emergency communications
One-touch emergency page and 9 custom speed dials
Visual and audible indicator for incoming calls
System status with real-time status line icons
Easy to use wizard-based menu system with soft keys
Built-in speaker phone for hands-free VOX-based communication
Optional push-to-talk functionality
Independent volume control for handset, speaker and ring
Powered by CAT5(e) or CAT6 up to 1000ft. from
CH1000(LT) and up to 4000ft. with local power supply
Classroom Telephones
Keep connected to the classroom.
The VTM keeps teachers and staff connected in the classroom with VoIP telephones.

Classroom phones can access CH1000(LT) system, conveniently keeping system functionality at your fingertips. Authorized access is based on the phone or user.
Add virtually unlimited classroom phones
Classroom phones feature off hook transfer and duress for added student and staff safety during crisis situations.
Full FreePBX included (all the features of a PBX system)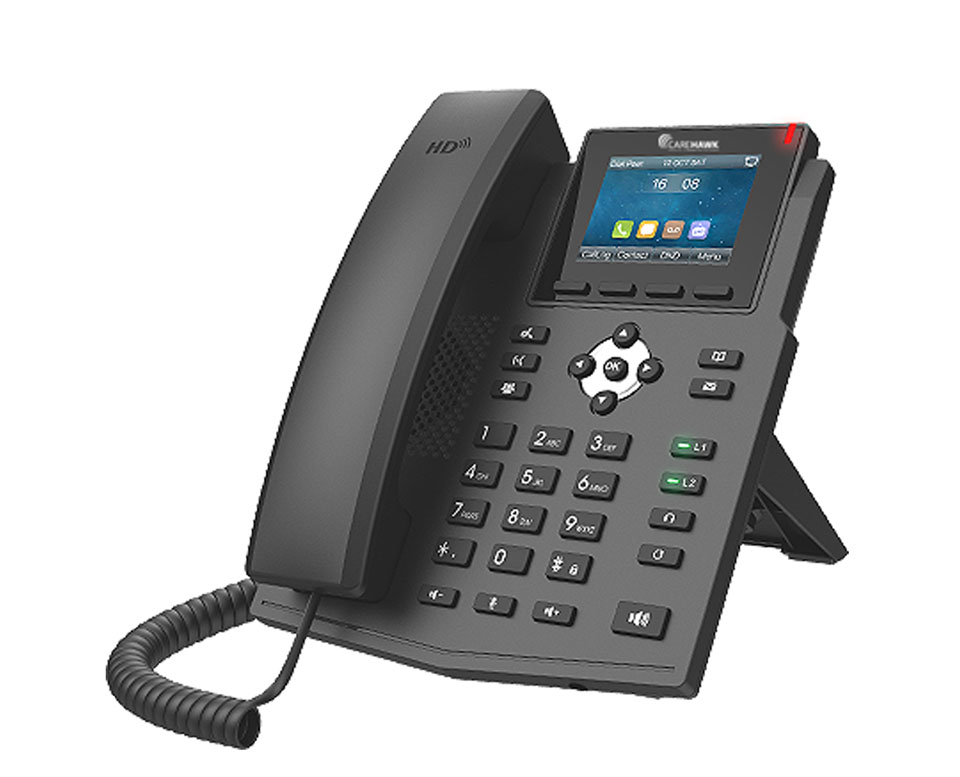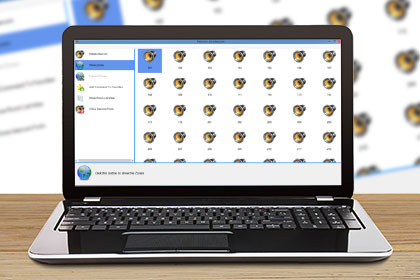 Assistant™
You're in contorl with a PC based admin phone with graphical interface.
CareHawk Assistant™ is a graphic based admin phone interface for the CH1000 Saftey Communications Platform. Assitant™ runs on any Windows® based PC and is associated with a telephone connected to the CH1000. This associated telephone can be as simple as a single line set or a extension off of a local PBX/IPBX.
Initiate functions with a click of the mouse and pick up the phone to speak. Call-ins are graphically annunciated along with the caller ID information. Routine functions can be saved as a favorite onto the main screen to simplify access for individual users.
Zones on the fly can be created using Assitant™. Users can create a page zone on the fly and save it as a favorite thus extending the available 64 zones to unlimited zones. No need to remember room numbers. Using the graphical room icons allows for users to find locations with complicated hard to remember room numbers easily.
VCall™
Increased safety in the classroom.
A network of CareHawk® Virtual Call Point software (VCall™) is part of the CH1000 Platform and provides school staff the ability to place a normal or emergency call using a PC. The VCall™ software resides on the computer desktop as a tool bar that is unobtrusive to the user but is easily and quickly accessible using a mouse.
Security in the classroom is increased with VCall™ simply due to the covert nature of a PC based call point. When an intruder enters a classroom the telephone is the obvious device to disable, followed by preventing anyone from going near the call switch on the wall. VCall™ becomes the hidden alarm button giving the teacher another means of communication.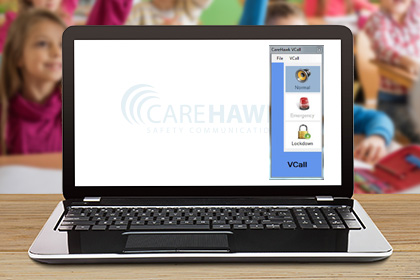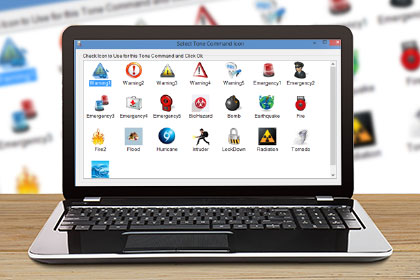 ToneAlerts™
Ensure emergency messages are sent quickly and clearly!
ToneAlerts™ is an unobtrusive desktop toolbar that is quickly accessible using a mouse. Save precious seconds in notifying building occupants of a pending threat to health and safety, like severe weather emergencies.
The ToneAlerts™ allows users to broadcast emergency tones or WAV file messages throughout a facilities' speakers. Up to 9 tones or WAV files may be selected for one-click activation.
WebCalendar™ /
Calendar™
Easily keep your school running smoothly with organized schedules.
WebCalendar™ is a browser based version of the PC based Calendar™ scheduling tool used with the CH1000 Platform. WebCalendar™ provides everything you need to schedule tones, programs, video surveillance, and other output events through the CH1000.
All of the required steps to schedule a timed event on a CH1000 are presented in an easy to understand wizard format. WebCalendar™ uses a standard day-month-year calendar. Events can be scheduled years in advance and are displayed in a graphical calendar view which makes keeping track of things easier.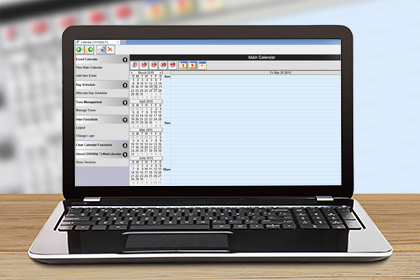 It's A Matter Of Life Safety
Learn More About CareHawk