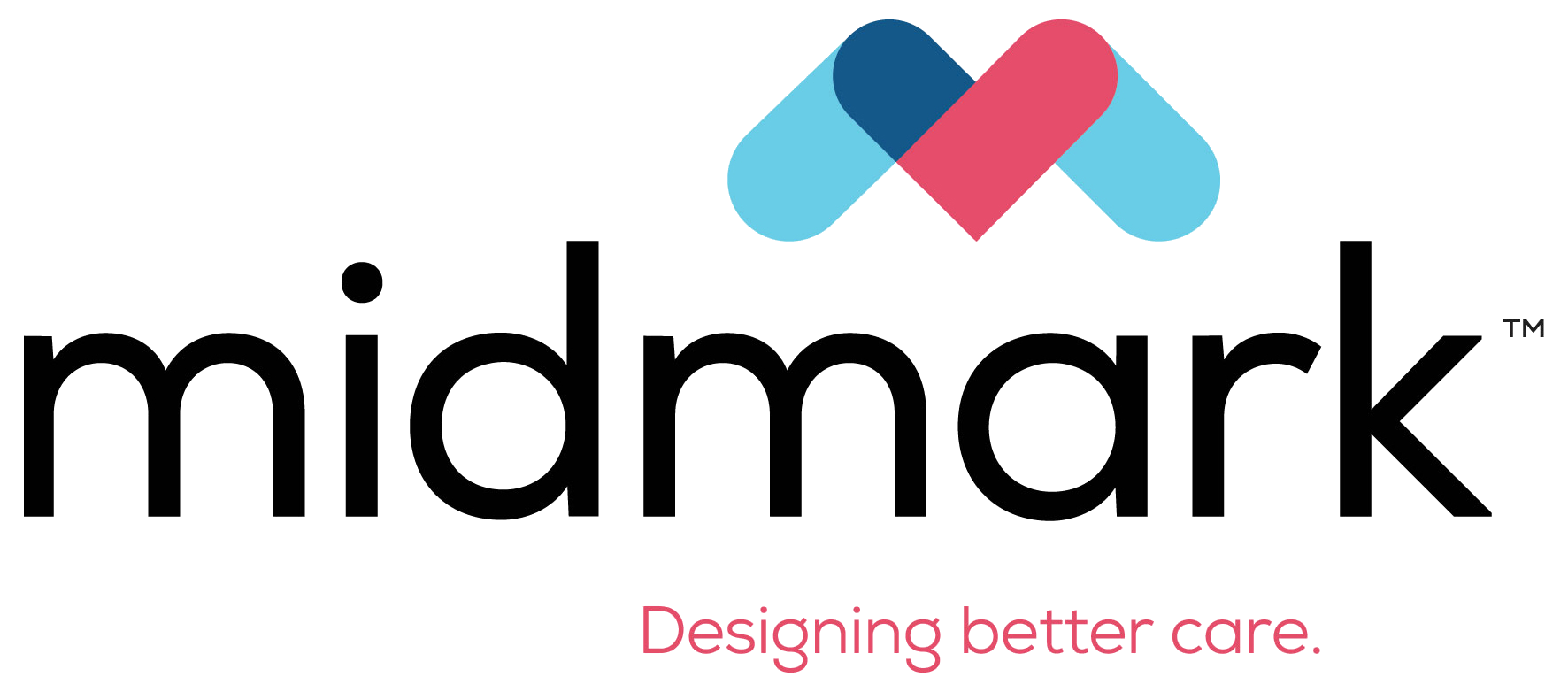 Real-Time Locating System
Formerly Versus Technology, the Midmark real-time locating system (RTLS) uses automated, accurate data to improve the experience between the patient and caregiver.
Deliver Exceptional Care with Midmark RTLS
From one use case to many and across your IDN, RTLS optimization is here.
With Midmark RTLS (real-time locating system), you can automatically collect valuable data to fuel improvement in your organization. Midmark RTLS
badges, tags and sensory networks are designed to work in the background, communicating locations of people and equipment—accurately, automatically, all the time. With RTLS, better care is within reach.
This is the future of healthcare. Are you ready?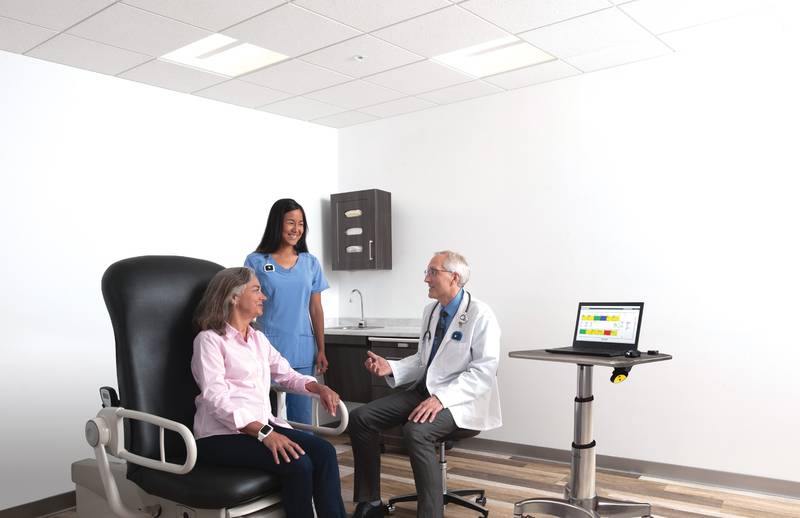 How does
RTLS

work?

A real-time locating system (RTLS) gives you a bird's-eye view of patients, colleagues and equipment in your health system. Using badges (worn by people), tags (affixed to equipment), sensors (placed in the ceiling throughout the facility) as well as sophisticated software, Midmark RTLS gathers location data and turns it into actionable insight for better workflow.
Patient + Staff Badges
Patients and staff wear badges that emit infrared (IR) and radio frequency (RF) signals, communicating real-time location to ceiling-mounted sensors.
Sensory Network
Wired or wireless sensors throughout the facility receive badge and tag signals and communicate location data to the software.
Asset Tags
Just like badges, but for mobile equipment (e.g., IV pumps, ECGs, wheelchairs, etc.). Midmark RTLS Asset Tags offer precise IR or general Wi-Fi locating.
Software Solutions
Location data, as well as workflow prompts, are visually displayed on workstation computers or large screen displays in common areas, keeping care teams in sync.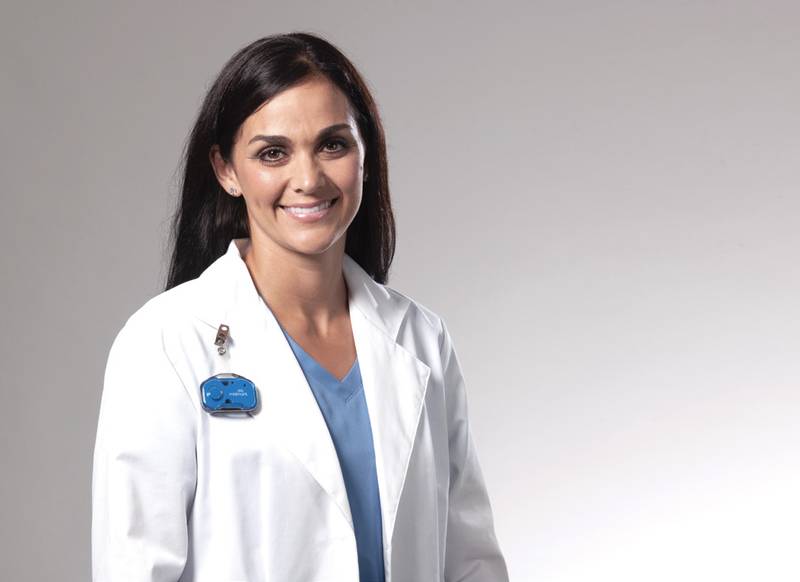 Clearview
Our Clearview Badge sets the standard for durability and accuracy. With superior battery life and a functional, easy-to-wear design, Clearview stands the test of time.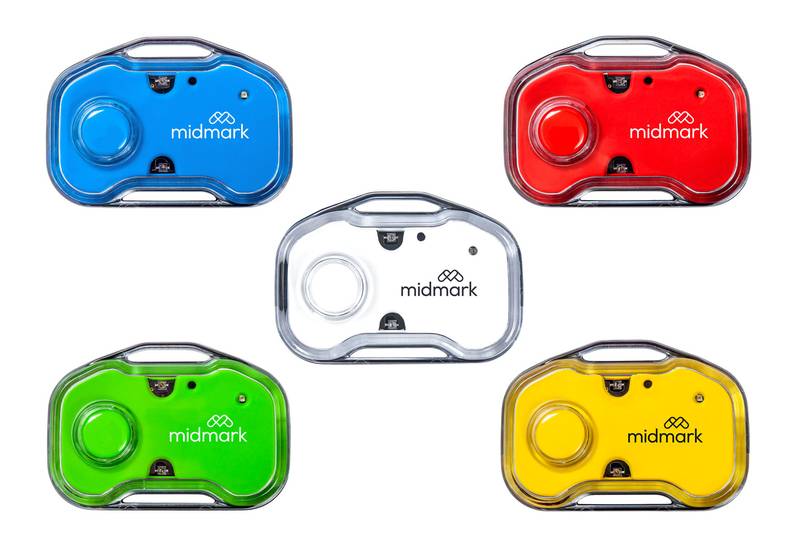 MULTIPLE COLOR CHOICES
Choose the color that matches your facility, or creatively color code badges based on staff roles. The possibilities are endless. Clearview comes in White, Red, Blue, Yellow and Green. Custom options also available.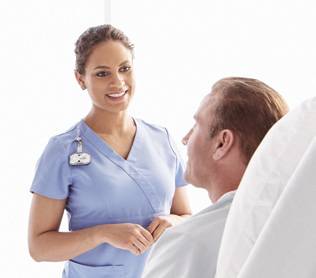 PRECISE LOCATING, LONG LIFE
Superior battery life sets Clearview apart. Powered by lithium coin cell batteries, Clearview battery life lasts up to two years, with IR wavelength of 875 nm/455 kHz and RF frequency of 433.92 MHz.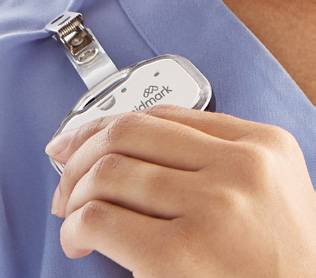 A DURABLE, COMPACT DESIGN
Clearview is easy-to-wear and non-invasive. It's compact (1.65″W x 0.55″D x 2.44″H) and lightweight (1.06 oz, battery included). The badge button is programmable, typically used to call for assistance.
Together, Midmark RTLS and Ascom have successfully received interoperability certification for automating nurse presence within the Telligence Nurse Call system with Midmark RTLS Bridge for Ascom Unite and Ascom Connect for RTLS.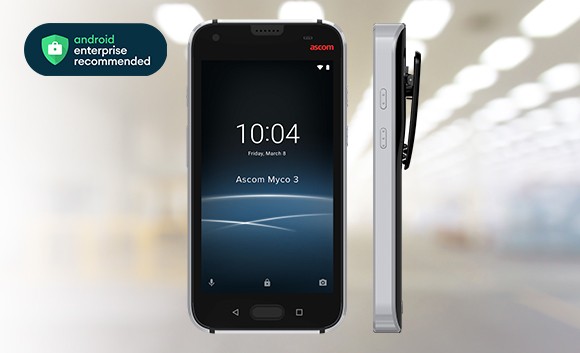 Ascom Myco 3 Smartphones
Looking for more wearable options? Clearview Mini is our most versatile badge: same IR/RF technology as the Clearview, with four wearable options. Clearview Mini is best suited for patient flow applications in outpatient clinic and acute care settings.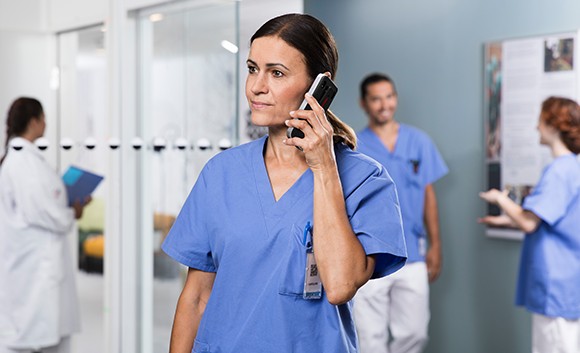 The Ascom Myco 3, supported by apps and software: delivering actionable clinical insights for better-informed and coordinated care.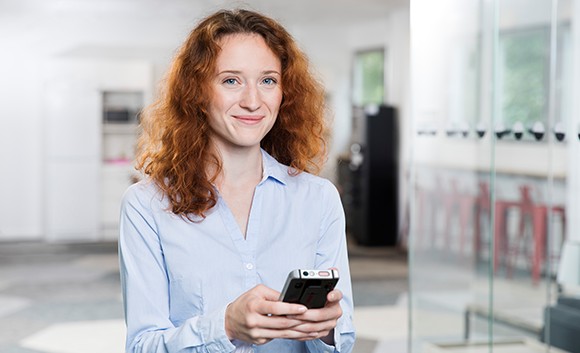 The Ascom Myco 3, supported by apps and software: a hands-on way to boost productivity and customer satisfaction.
Ascom Myco 3 validated by Google as an Android Enterprise Recommended ruggedized device.
The Ascom Myco 3 together with supported apps unlock and connect fragmented and siloed information; helping your organization to:
Connect information across dispersed mobile workforces to help coordinate time-sensitive activities
Deliver information efficiently across teams' devices and information management systems when and where needed
Turn multi-step and multi-location activities into coordinated workflows and communication
With secure connectivity to LTE and Wi-Fi networks, the Ascom Myco 3 supports smooth collaboration across even the largest, most complex facilities. And its Android™ 8.1 OS and Google™ certification ensures access to the world's largest ecosystem of apps.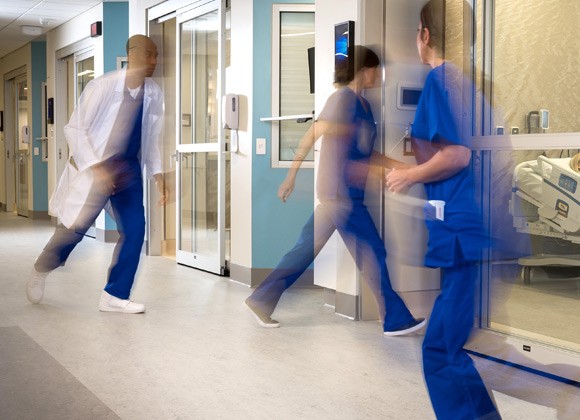 Telligence Patient Response System
Elevating Nurse Call for Unsurpassed Patient-Centric Care
Telligence from Ascom is the world's first Patient Response System. With Telligence, caregivers now have relevant information at the point of care and throughout the care process. Built on the Ascom Healthcare Platform that collects information from multiple sources (the patient, medical devices, healthcare applications and other systems), Telligence gives clinicians a more comprehensive view of the patient's status that goes well beyond traditional nurse call. As a result, caregivers are better informed when responding to patient requests.
The Ascom Healthcare Platform
Ascom solutions are designed to integrate, orchestrate and enable aligned end-to-end digital clinical information and workflows between systems, people and devices at virtually any point of care. Representing applications, services, devices and smartphones, the Platform and Ascom Telligence enable seamless access, sharing and tracking of information across clinical teams.
Annunciator
Ascom Telligence annunciators are wall-mounted notification and information stations that enable workflow solutions for the way your hospital wants to work. Whether nurse call events and patient requests are handled in a centralized or de-centralized manner, Ascom Telligence annunciators provide information to your staff where and when they need it most.
Fast facts
Standard RJ-45 connector and category 5/5e/6/7 cabling for easy installation
Hot swappable for quick replacement and easy maintenance
Telligence Advanced Audio Technology that provides crisp, clear audio communications in virtually any setting
Available with hands-free audio or optional handset for private conversations
Capacitive touch, high-resolution color display with swipe and touch navigation
Service task functionality that makes it easier to identify and more quickly resolve patient requests
Configurable service tasks mean frequent requests such as a blanket, pain, toilet, water—and up to 21 total—are available at the touch of a button.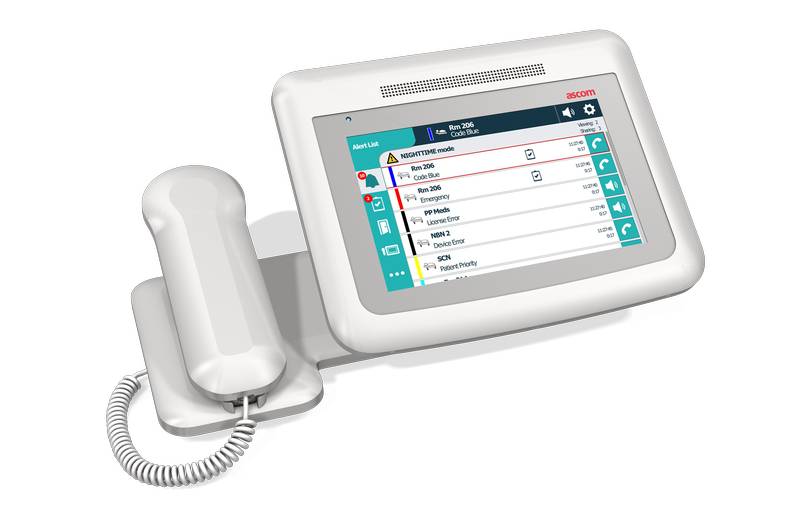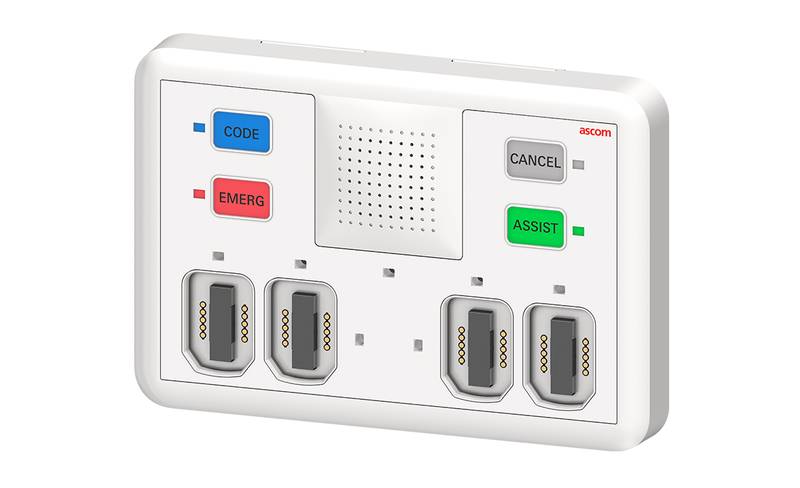 Patient Station
With a unique modular design, the Ascom Telligence patient station featuring peripheral, speech, pull cord and input/output options can be combined in nearly any configuration to meet the wide ranging needs of most hospital environments. Patient stations with user-defined workflow buttons help caregivers spend more time at the bedside. A simple press of a button gives direct connections to colleagues. Requests, updates and alerts go directly from the patient room to labs, pharmacies, administration, transport, security, and so on.
Fast facts
Standard RJ-45 connector and category 5/5e/6/7 cabling for easy installation
Available with three customizable buttons; use one, two or three buttons
Group up to three stations together to meet your exact needs
Sealed membrane for easy cleaning
Customizable button insert kits available
Color matching LED reassurance light for each button
Hot-swappable stations to reduce care interruptions
Permanently backlit buttons to easily locate the module in the dark.
Corridor Light
Ascom Telligence corridor lights help streamline communication, simplify workflows and enhance patient safety by communicating clear information to caregivers at the point of care.
These flexible devices can contribute to calmer, quieter environments—a key benefit for patients, and caregivers seeking to minimize noise on the ward—by presenting call types, room status, and workflow events that can be easily distinguished from one another.
Equipped with safe mode, each corridor light will indicate events from the room even if communication from the gateway is lost.
Fast facts
Rugged, reliable IP architecture. Flexible and IT friendly.
Safe operating mode means dome lights will continue to work, even if network communication is lost.
Four illuminated sections support nine vivid colors, with virtually infinite configuration possibilities. Change them over time to suit evolving needs.
Contemporary design that complements modern architecture while offering several mounting options to meet specific facility needs.
Wall or ceiling mounted. Both variants are designed to fit with existing back boxes, to support migration from traditional nurse call systems.
Easy to maintain. LEDs use very low power, and have a long working life.
RJ-45 connectors make devices easy to install and maintain.